Gear up for the winter season with heating repair services for the Sydney metro area residents from IDEAL Air Sydney! Over a decade, IDEAL Air has been building up its reputation as one of the best ducted heating repair and service experts in the Sydney metro area by its fast reliable service and professional and friendly attitude. Whether you are in need of , servicing, replacement or annual checkups, our experienced and qualified professionals at IDEAL Air Sydney can help.
In addition to improved ducted heating efficiency, removing air duct contaminants can greatly increase your indoor air quality
At IDEAL Air Sydney, our experts understand importance of a properly operating heating system for a comfortable and clean living and business environment and they take pride in the care of any of your ducted heating services, repairs and replacements. Not only that we respond to your call promptly, but also make sure your ducted heating system is repaired to its original state with minimal disruption to your schedule.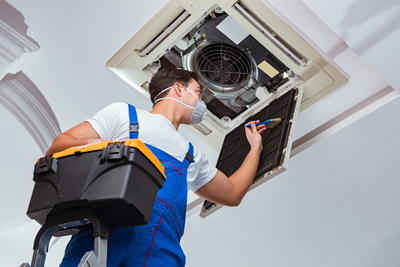 Heating ducks are frequently positioned out of sight and any damage which may occur is very difficult to identify. Therefore, regular, annual checkups of heating units are highly recommended in order to avoid expensive ducted heating repairs, achieve maximal efficiency of heating systems, reduce energy bills and keep the air fresh and save to breathe. At IDEAL Air Sydney, our team of dedicated experts is specialized in conducting detailed inspections, ensuring your ducted heating unit operates safe and properly. More over, when required, our consultation can help you to make the right decisions about your heating needs and guide you through the process of choosing the most efficient heating system.
We pride ourselves on our exceptional knowledge and excellent customer service at the most competitive prices.
Call us now at IDEAL Air Sydney and we will ensure you can enjoy the benefits of an effective heating system in your home.