IDEAL Air Conditioning Service Canberra offers exceptional AC services including: repair, service and regular maintenance designed to ensure that your air conditioner will meet your cooling requirements. Based in Canberra, we are well placed to offer fast reliable service to our customers in the city and the Canberra suburbs.
Do you know that without regular maintenance, you'll never know if your air conditioning unit is functioning properly or not?
The licensed technicians at IDEAL Air Conditioning Service have been dedicated to providing the very best in air conditioning service in Canberra for over a decade. To achieve the highest levels of service quality, constant attention is paid to customers' needs and satisfaction. Regardless of which type of air conditioning system you use (reverse cycle ducted AC, reverse cycle split AC, reverse cycle multi split AC, room AC for windows and walls), our highly trained technicians have the skills to conduct the job in the most professional and productive manner. We aim to provide Canberra residents with the most convenient and affordable air con service at the very best price.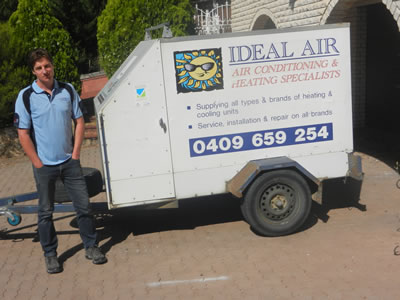 Regular maintenance keeps your air conditioner running as efficiently as possible and also saves you money by extending the unit's life. Therefore, performing annual AC maintenance and cleaning is the most effective way for keeping your AC system operating at its best. At IDEAL Air Conditioning, we offer complete air conditioning services to ensure that all our customers in Canberra get the quality air conditioning maintenance essential to the most productive and durable operation of their AC systems.
Your AC system is an integral part of your home's comfort and also a big investment which requires professional maintenance. So, if you live in Canberra, for air con service and quality repairs trust the experts at IDEAL Air Conditioning. Having years of experience in quality maintenance of all brands of air conditioner systems, we will respond promptly, ensuring that you receive AC service of the highest quality. Identifying your AC requirements and achieving optimal performance of your AC system is our ultimate goal.
Our team pride themselves on their exceptional knowledge and excellent customer service.
Give us a call today and find out why commercial and residential customers in Canberra consider us their preferred air conditioning service provider.