The experts at IDEAL Air are committed to providing the very best in Air Conditioning Service for residents in Brisbane. Regardless of where you live in the Greater Brisbane area - City of Brisbane: Inner, Northern, Southern, Eastern and Western Suburbs City of Ipswich Logan City Moreton Bay Region Redland City and also which type of air conditioning system you use (reverse cycle ducted AC, reverse cycle split AC, reverse cycle multi split AC, room AC for windows and walls) IDEAL AC offers exceptional AC services including: repair, service and regular maintenance designed to ensure that your air conditioner will meet your cooling needs.
Do you know that without regular maintenance, you'll never know if your air conditioning unit is functioning properly or not?
At IDEAL Air Conditioning Service Brisbane, we achieve excellence by maintaining the highest levels of quality assurance and constant attention to customers' requirements and satisfaction. If you need Air Con Service, our highly trained technicians have the skills to conduct the job in the most professional and productive manner. We aim to ensure that Brisbane residents receive the most convenient Air Conditioning Service available. Taking into account the rising costs of everyday life, we strive to keep all of your AC Services affordable. Providing you with the very best service at the very best price is our ultimate goal.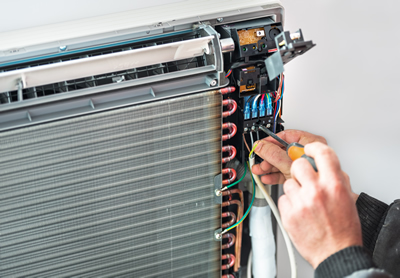 Performing annual AC maintenance and cleaning is the most effective way to reduce air conditioner repair bills. When you invest in AC Service, you certainly want a long-lasting and energy efficient air conditioning system. Regular maintenance extends the life of your air conditioner and helps it run as efficiently as possible. At IDEAL Air Conditioning, we offer comprehensive air conditioning services to ensure that all our customers in Brisbane get the quality air conditioning maintenance essential to the efficient and durable operation of their AC systems.
Technicians are the part of our business that we rely on to provide our customers with that all important professional, and faultless installation service. Without our technicians, we would not be able to provide the services we do. We ensure that all our technicians are certified, and have experience and skill that allow them to undertake the tasks at hand with confidence, and ease. Our technicians are clean, upstanding members of the community who hold the same ethics and integrity that we stand by.
If you live in Brisbane, keeping your system operating at its best is certainly important. Not only that your AC system an integral part of your home's comfort, but it is also a big investment and something that needs professional maintenance. When your system needs quality repairs or air con service, trust the experts at IDEAL Air Conditioning Service. We will dispatch skilled service technicians who can quickly diagnose your AC needs and get your air conditioning system functioning at its best.
Give us a call today and find out why commercial and residential customers in Brisbane consider us their preferred air conditioning service provider.