Call 1300 787 741 today for air condition installation in Brisbane
You will only understand the value of air conditioning that is efficient and faultless, if you live in an area where you really need it, and don't have it. Australia is the sunshine state, where the heat can often become too unbearable to manage. An effective, air conditioning installation is something that needs to be assured when you are making the important decision to install such a unit. Ideal Air Conditioning Service can certainly offer you peace of mind, and quality installations.
A reputable HVAC contractor performing an air conditioner installation should take a few hours to carefully perform the tasks, resulting in a high-performing, efficient air conditioner, lower energy bills and a comfortably cooled home.
If there is one thing that affects the function of your air conditioner from the start, it's the installation. An installation that is carried out in the correct manner, effectively, efficiently, with attention paid to detail, will always ensure that the basis on which your setup operates, is safe and will run smoothly and without a hitch. We offer an air condition installation in Brisbane that is faultless. We cover all the bases, leaving nothing to chance. We evaluate your home, and requirements, design an appropriate system, offer you an upfront and affordable quotation, implement the setup, test it thoroughly, and commission it once you are completely satisfied. Our professional team guarantees that nothing is left to chance; you won't be taking a gamble on our installations.
Technicians are the part of our business that we rely on to provide our customers with that all important professional, and faultless installation service. Without our technicians, we would not be able to provide the services we do. We ensure that all our technicians are certified, and have experience and skill that allow them to undertake the tasks at hand with confidence, and ease. Our technicians are clean, upstanding members of the community who hold the same ethics and integrity that we stand by.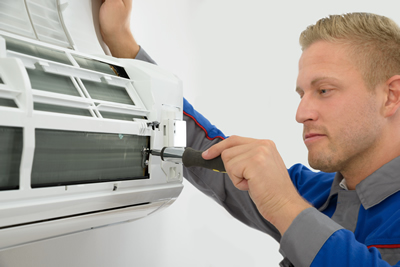 Our installations are guaranteed to be top class. We use only the highest quality equipment, and materials. We use brands that are well known in the field, brands that are synonymous with performance and quality. Our materials are high grade, and are built to last through the trials and tests encountered over time. We never use inferior products, or equipment that we haven't tested ourselves. We use what we know works, and has a tried and tested performance history in the industry.
Making the decision to install and air conditioning system in your home is one that is taken with great consideration. It is a costly undertaking, but if carried out in the required manner, it can be viewed as an investment into your home, and into the lives of your family members.
Let's get started on your AC Installation project. Call Ideal Air Conditioning Service at 1300 787 741 or request an appointment and one of our specialists will get back with you right away with the perfect solution for your air condition installation in Brisbane.