IDEAL Air Conditioning technicians are one of the most trusted air conditioning repair experts in the greater Melbourne area.
Our fast reliable service, professional and friendly attitude and excellent customer service have been building a strong reputation of IDEAL Air Melbourne for over a decade. Our team of experts provides a call-out service that allows you to take full advantage of our expertise and experience in conducting repairs of residential and commercial air conditioning systems. We take pride in our highly skilled repair technicians and competitive prices.
Signs that your AC unit may need repairing: No cool air, Weak air flow, Faulty thermostat, Leaking around your system, Strange sounds, Strange smells
Effective and efficient performance of your air conditioner throughout the year is an integrated factor in creating your living and working spaces pleasant and healthy environments. Everyday use of your air conditioning system during warmer months can cause deterioration of its functioning which means that repairs are required. Fortunately, no air conditioner issue is too large for IDEAL Air Melbourne. A breakdown of any component - the compressor, the condenser coil and fan, the metering device, an expansion valve, the evaporator coil and blower or the chemical refrigerant- can be easily identified by our licensed technicians and, most frequently, repaired on the spot. To eliminate delays, we carry a full line of replacement parts your AC system may need with us. Should immediate repair not be feasible, we will weigh our options and provide the most efficient solution for your air conditioning repair in the shortest time possible.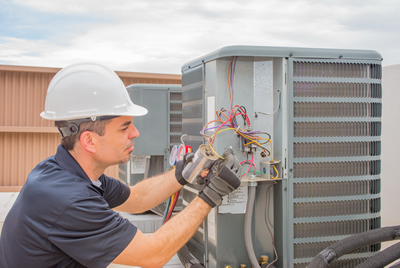 In some cases, AC repair is not the most cost-effective option and it may be more economical to replace an inefficient air conditioner even if it still functions.One of our experienced AC service professionals at IDEAL Air Melbourne will be able to provide expert advice and guide you through the process of choosing the most efficient air conditioning unit.
Due to our extensive experience across a wide range of types of air conditioning systems (evaporative cooling, central air conditioning, ducted reverse cycle, wall mounted split systems, reverse cycle ducted systems, reverse cycle split systems, reverse cycle multi split systems), air conditioning repairs conducted by IDEAL Air Melbourne are of the highest quality.
If you have any concerns about your air condition units, do not wait too long! Call us today!