Call Now 1300 787 741 today for air condition installation in Sapphire
Summer is a favorite time of year for many people. Spending time outside, enjoying the warm weather is a great pastime for this beautiful season, but bringing the heat inside with you is not enjoyable. Enjoy a cool atmosphere in your home with an air conditioning. Ideal Air Conditioning Service specializes in the installation of air conditioning systems. With our easy and efficient service, your AC unit can be up and running in no time.
A reputable HVAC contractor performing an air conditioner installation should take a few hours to carefully perform the tasks, resulting in a high-performing, efficient air conditioner, lower energy bills and a comfortably cooled home.
Benefits of a High Efficiency AC Unit
For many, the supposed cost of running an air conditioning system is a drawback. With a high efficiency air conditioning unit, the cost is less than expected and clients replacing an older unit with a high efficiency one can actually expect to save more per month on energy bills. Higher efficiency systems use less energy and produce less pollutant. This means your home is greener while also not hurting the environment.
Signs it's Time to Replace
The experts at Ideal Air Conditioning Service are happy to provide you with options on your air conditioning unit. When you call us to repair or maintain your cooling system, we will give you solid advice on what the best course of action for your AC unit should be.
If you notice any of the following signs with your cooling system, it may be time to replace.
- Odd sounds such as clunking or grinding coming from your unit.
- Noticing inconsistent temperatures or humidity in your home.
- Leaking or water around your unit.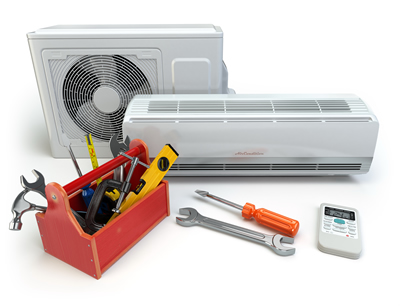 Air conditioners typically last up to 10 to 15 years. If your cooling system is over 10 years old and showing any of these signs, it may be time to consider replacement and switching to a more efficient unit.
Technology is changing the face of air conditioning much as it's changing everything else in the modern world. How can you find the system that's right for your home? There are more choices than ever before. Selecting the right system can be a challenge, but that's what our experienced team specialize in.
When you call 1300 787 741 for a cooling system replacement or installation, you can expect top notch service. Our technicians are trained and experienced at installing cooling units in the most cost effective and efficient way. We believe in getting the job done right the first time. Our technicians will work diligently to get you up and running with all components installed properly, we will even dispose of your old unit and ensure any mess created by your installation is cleaned prior to us leaving.
Whether you are replacing an old unit or installing a brand new high efficiency air conditioner, Ideal Air Conditioning Service. has all your cooling system needs covered