Call 1300 787 741 today for air condition installation in Adelaide
Installing an air conditioning system allows you to reap the benefits of a comfortable and controlled indoor environment. However, installations can be complex and more often than not, you will need the services of a professional installer. So, if you have considered investing in an air condition installation in Adelaide, a few tips on choosing the right company can be helpful.
A reputable HVAC contractor performing an air conditioner installation should take a few hours to carefully perform the tasks, resulting in a high-performing, efficient air conditioner, lower energy bills and a comfortably cooled home.
Consider the Cost of AC Installation
Cost is always a concern, especially in the current tough times. You can't afford to throw away hard earned money so it makes sense to strive towards getting the most for your money. Make comparisons and get itemized quotations before making your choice. At the end of the day, you want to hire a company that will guarantee year-round comfort, long-term energy savings, and increased home value.
Energy Efficiency
Whether you're replacing an old unit or installing a new one for the first time, it's crucial to consider energy efficiency. Air conditioners account for a significant percentage of energy used by homeowners and businesses each year. Any steps taken towards reducing energy costs is wise and equates to significant long-term savings.
Sizing
It's also essential to choose the right size AC unit for your home. Too large unit can cost you more whereas a unit that's too small will hardly be effective. The trick is to seek professional help when choosing a unit. Ideal Air Conditioning Service has been in the industry for over 15 years and the team of skilled professionals can provide valuable insight regarding the proper choice of an AC.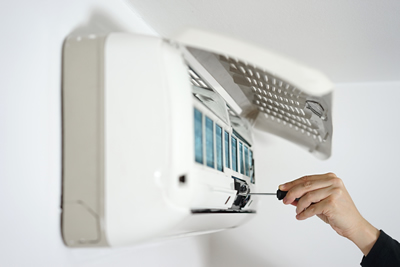 Once you have a basic understanding of what to consider when deciding to purchase or install an AC, find a qualified AC installation company to install it for you. An improperly installed unit can void your warranty and result in the loss of your investment.
We believe in being upfront and honest with our customers. You will never be charged for any work that you did not approve first, nor will there ever be any hidden charges or fees. We have too much appreciation and respect for our customers to do anything of the sort. We'll always arrive on time for your AC installation and communicate clearly throughout the entire process.
Let's get started on your AC Installation project. Call Ideal Air Conditioning Service at 1300 787 741 or request an appointment and one of our specialists will get back with you right away with the perfect solution for your air condition installation in Adelaide.