After a long winter, many people will check their roofs, gutters or water tanks for any damage done; however, most of them will forget one thing essential for hot summer months – the air conditioner. A dirty unit needs to work much harder to cool inside air and control humidity levels. Moreover, dirty and overly used parts can hamper its performance, impeding the flow of clear air and increasing your energy costs. Proper air conditioner cleaning will ensure efficient performance of your unit, keep your energy bills low and allow its longer lifespan. Although preventive annual maintenance should be carried out by a professional before each cooling season, the good news is that there are some tasks that you can do yourself.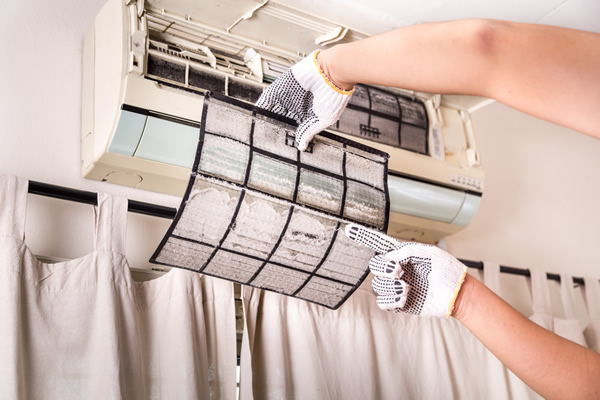 Replace your filter first. Dirty and clogged filters are perfect for bacteria and mould and are the main source of indoor pollution. Also, when the filter is clogged, your unit needs to work much more to cool the air inside your home which will make your energy costs to soar.
During the cold winter months, the coils get clogged and dirty which also prevents the proper airflow. This is why the next step in your air conditioner cleaning is taking care of both exterior and interior coins. Before you start with the task, make sure that your unit is turned off. The exterior part of your AC can be easily washed using a garden hose. Remove grass and other debris around and above the AC. In order to prevent any blocking of your unit's vents and the proper airflow, you should leave at least one foot of space around your vents and the outside units. The interior part of your air conditioner has an access panel that should be removed to reach the evaporator coil. There are many effective methods for removing dirt from the coils. However, to avoid using detergents and other chemicals, we recommend brush cleaning.
You can use a vacuum first for removing visible dust and debris and then apply the brush, controlling the pressure on the coils and fins.
In addition to your air con cleaning, you should also check your thermostat. If you have an older model, it could be the right moment to upgrade it to a newer one that you can remotely program which means that any time you come home, the inside air can be already cooled down.
Professional cleaning costs, so here you can find some tips how to do the entire job by yourself. If, however, your unit is so dirty that seriously affects its normal operation, we recommend you schedule an appointment with a professional HVAC technician